Denis-Jacques Fayolle (1)
The name of Denis-Jacques Fayolle is inseparable from the cabinet of curiosities which Charles-Philippe of Bourbon, the Count of Artois and younger brother of Louis XVI, built up from 1785 to 1789 for his sons' education. The collection's extraordinary scope is illustrated by the inventory made in 1792: apart from the 14,538 specimens of naturalia, there are 362 items of 'Clothing, arms and utensils from the different peoples of Asia, Africa and America', 39 'divinities from the same peoples', and 300 Roman medals. The collection of exotica is regarded as the most remarkable of its time, with the North American component being by far the largest in quantity and in the variety of its objects.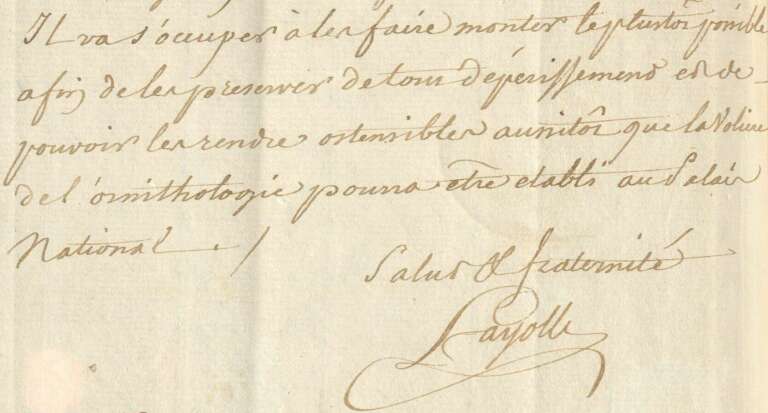 Denis-Jacques Fayolle's signature
© Bibliothèque municipale de Versailles
Nineteenth-century historiographies have often painted the portrait of Fayolle as the former Navy administrator with an undying passion for natural history, who sold his personal collection of naturalist specimens for the benefit of the princes' education. He became the curator of the Count of Artois's Cabinet, located in the town house of Louis-Armand de Sérent, the governor of the two boys. When the Revolution broke out, the princes' education project was abandoned and Fayolle became the commissaire des arts in charge of revolutionary seizures, ensuring among other things that the cabinet of curiosities was not dispersed. It was transferred to the Versailles Palace, and later, in 1806, to the new Municipal Library in Versailles. Fayolle, who had passed away two years previously, never saw the outcome of this project to which he had devoted the last twenty years of his life.
Our fragmentary knowledge of this remarkable figure
The role of Fayolle in the history of the Count of Artois's Cabinet is still not wholly elucidated. Due to patchy consultation of the sources, researchers had claimed that the Cabinet's contents were acquired by Sérent or that the ethnographic collection linked to the Cabinet came from the natural history specimens acquired by Fayolle between 1750 and 1785. Yet Fayolle's activity within the Navy administration cannot alone explain how this ensemble of exotica (exotic items such as antiquities and objects brought back from distant lands) came to be so extensive, containing such rare specimens.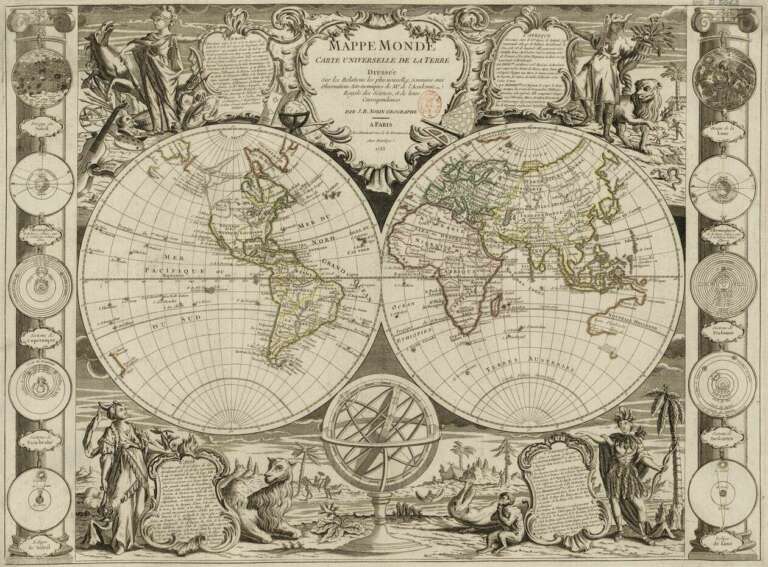 J. B. Nolin, World map, universal map of the earth, Paris, Daumont, 1755,
Bibliothèque nationale de France, GED-5062 (http://catalogue.bnf.fr/ark:/12148/cb40751922r)
© Bibliothèque nationale de France (http://www.gallica.bnf.fr)
Fascinated by natural history
Denis-Jacques Fayolle was born in 1729, and began his career as a chief clerk [principal commis] and later as a senior official in the Navy administration [commissaire de la Marine]. We learn from a report written in 1792 that after 1750 his post and his family network – three brothers, a son-in-law and a son enrolled in the Navy – enabled him to collect large numbers of naturalia (natural history specimens) from throughout the world. By 1757 this collection had quite a reputation among natural history cabinets, due to the wealth of its seashell fossils and madrepores (a type of coral) and also its foreign birds.
'He used the revenue from his employment to acquire the productions of nature, and his leisure time to prepare, organise and study them. Three brothers for whom he behaved like a father from their earliest years, and one son still at present on the Isle de France [Mauritius] helped build up his cabinet, and he availed himself of the means afforded by his position to have them travel, and he aroused such zeal in them through his wealth and his worth that in a few years they had enhanced it with objects sent from the furthest lands.'
Louis Richard, botanist, professor of medicine and academician, 1792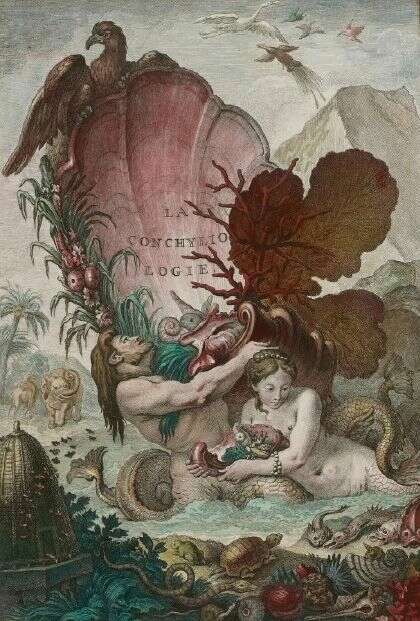 François Boucher (based on), Frontispiece, in A.-J. Dezallier d'Argenville, La Conchyliologie ou histoire naturelle des coquilles de mer, d'eau douce, terrestres et fossiles, avec un traité de la zoomorphose, Paris, vol.1, 1780
© Bibliothèque nationale de France (http://www.gallica.bnf.fr)
In references to the collection prior to its acquisition by the Count of Artois, only naturalia are mentioned, and, among these, only one has a cultural dimension. This is a manitou described as 'a small monstrous skeleton worshipped by the savages from the lands in the upper region of Louisiana'. The explorer Jean-Bernard Bossu obtained it while living among the Illinois in 1756. He gave it Fayolle before 1768.
A private tutor for the royal princes of France?
The impressive scope of Fayolle's natural history cabinet was mentioned once again in 1780. The Count of Artois purchased the Cabinet in 1785 for the education of his sons, Louis-Antoine, Duke of Angoulême (1775-1844) and Charles-Ferdinand, Duke of Berry (1778-1820). Fayolle was offered the post of keeper of the newly established Cabinet, whereupon he entered into the service of the House of Artois. It is likely that he became the tutor for the young princes in natural history and the sciences, since keeper of the Cabinet and tutor were often one and the same appointment at the Court.
The education of princes, which started in the mid-seventeenth century, evolved during the Enlightenment in step with the contemporary burgeoning of knowledge. The second half of the eighteenth century was characterized by a new-found enthusiasm for natural history, which even became something of a fashion. Publications and collections multiplied, and the discipline became part of the teaching syllabus in the closing decades of the Ancien Régime.
Charles Emmanuel Joseph Le Clercq, The Countess of Artois and her children (Sophie d'Artois, the Duke of Berry and the Duke of Angoulême), 1783, oil on canvas, 0,47 x 0,39 m, Château de Versailles, MV 8572
© Château de Versailles, Dist. RMN-Grand Palais / Christophe Fouin
The education of royal offspring depended on their governor. When the Count of Artois had Louis-Armand de Sérent, Marquis of Kerfily, appointed by Louis XVI as the princes' governor in 1780, the young Dukes of Angoulême and of Berry were only five and three years old, respectively. The governor supervised a team of people around them, who were responsible for their everyday activities and their behavior, while other tutors took their education in hand, among them Fayolle, in all probability.
A collector turned curator
The conditions of the sale of Fayolle's Cabinet were detailed in a Report dating from 5 Messidor year II of the Republic (23 June 1794). This document indicates that Sérent, aware that Fayolle did not want to part with his Cabinet, offered him the post of curator of the collection. Fayolle felt unable to refuse this deal, since he feared falling into disgrace if he did so: he had to accept a lower price for the Cabinet, and in return he would receive an annual stipend as curator.
'How small-minded were the great in transactions concerning the Arts and Sciences!'
Louis Richard, 'Report on the origins of the natural history cabinet established at the Museum in Versailles', 1794
This Report of 1794 is rather surprising in the way it presents the facts, painting a picture of Fayolle as submitted to an ambitious prince. His responsibilities at the Court were far from insignificant and he was much more closely involved with the House of Artois and Sérent than the Report suggests. What probably explains its tone is Fayolle's wish to demarcate himself from the royal family, and particularly from the Count of Artois, the leader of the counter-Revolutionary struggle, in order to avoid accusations of royalist sympathies. He also attempted to get certain sums he was owed settled, including part of the purchase price of his collection.
An amazing Cabinet of curiosities
The contents of the Count of Artois's Cabinet is known from an inventory made on 20 August 1792. What interests us most, for our purposes, are the ethnographic items, stored in the first room. These included medals, Roman, Egyptian, Peruvian and Caribbean statuettes, and the set of clothes, ornaments and arms illustrating, by their origin, the French colonial presence in Asia, Africa and America.
The first element described is the 'complete attire of a Savage from Canada', exhibited on a model, as was usual for the natural history cabinets of the time. There were also 'two other heads, modeled from life in wax, one with its hair arranged like a Savage Indian woman's from Cayenne and the other in the manner of the Savages of Louisiana'.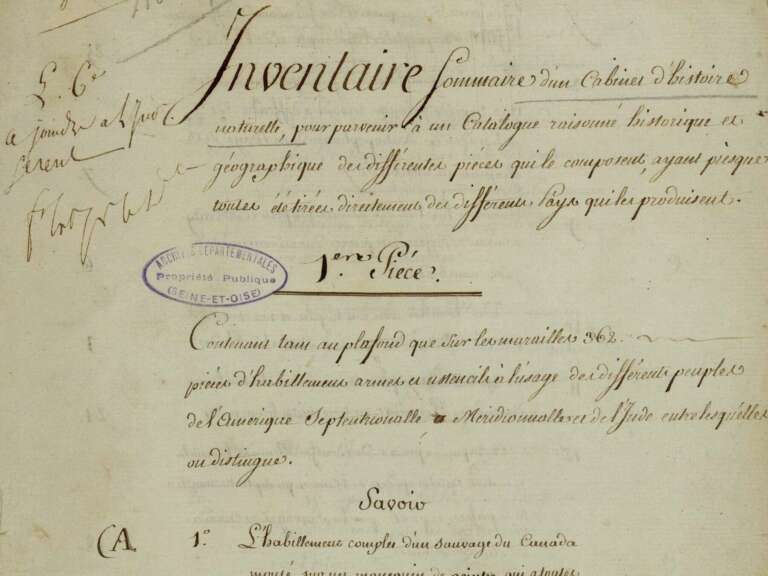 Denis-Jacques Fayolle, Brief inventory of a natural history Cabinet, August 20 1792
1LT 675 © Archives départementales des Yvelines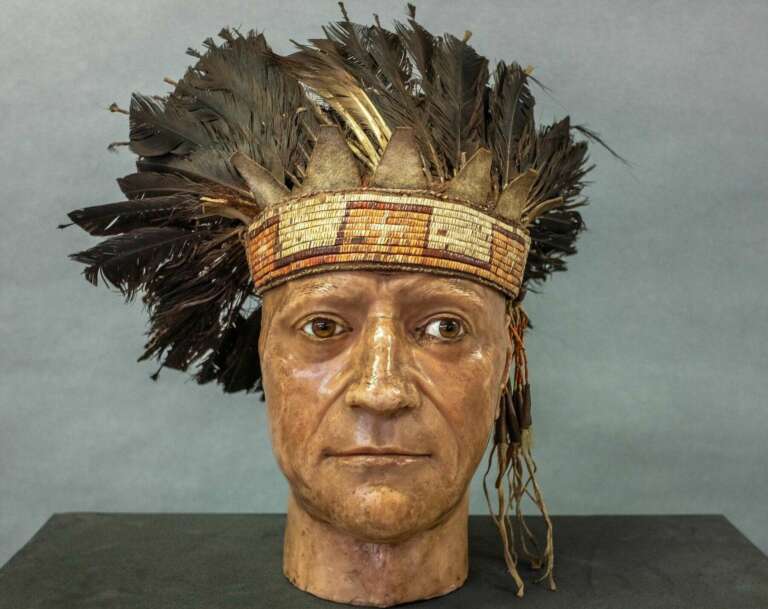 Headdress, Central or Southern Plains, c. 1740. Placed on its original manikin wax head.
© musée du quai Branly - Jacques Chirac, photo Julien Brachhammer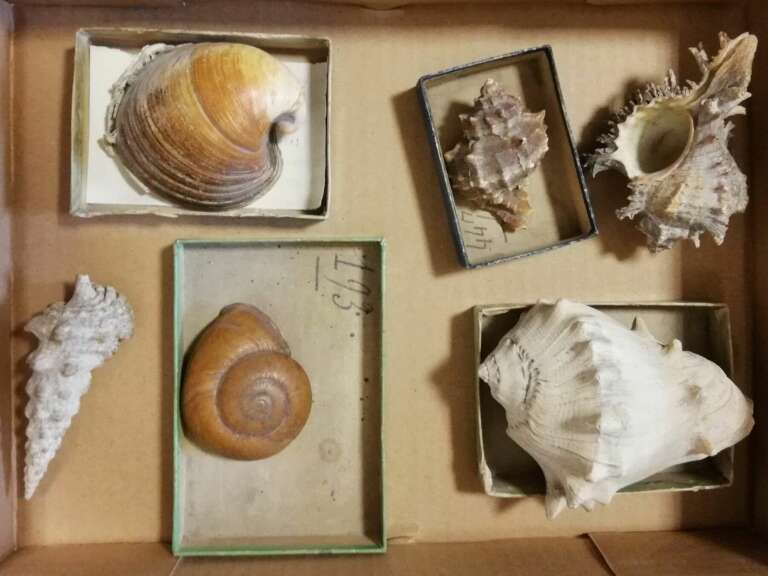 Malacology collection
© Lycée Hoche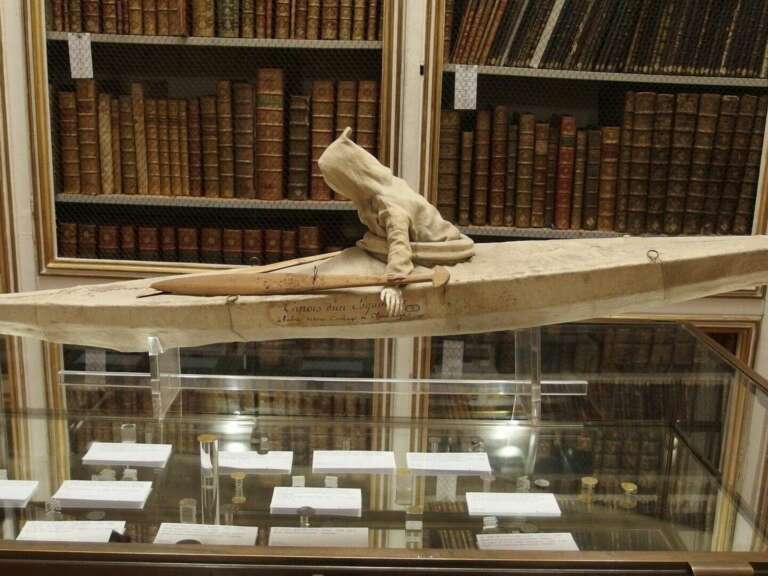 « Canoe of an Eskimo safe from any sink and capsize », unstated origin, 18th century
Bibliothèque municipale de Versailles © Ville de Versailles / Pierrick Daul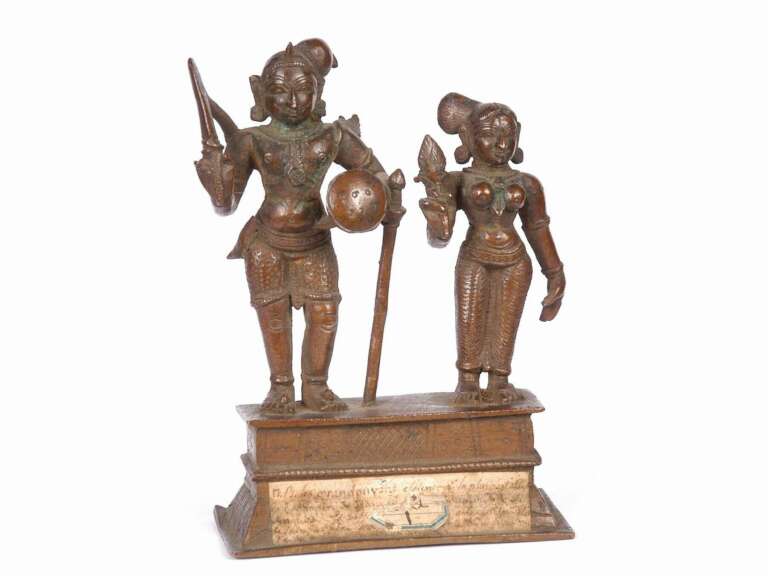 Princely couple, India, 18th century
© musée du quai Branly - Jacques Chirac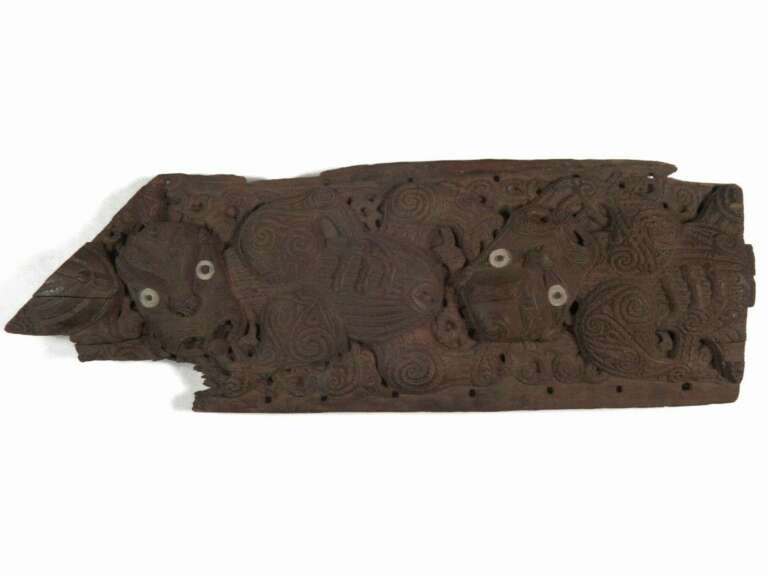 Architectural element, Maori, New Zeland, 18th century
© musée du quai Branly - Jacques Chirac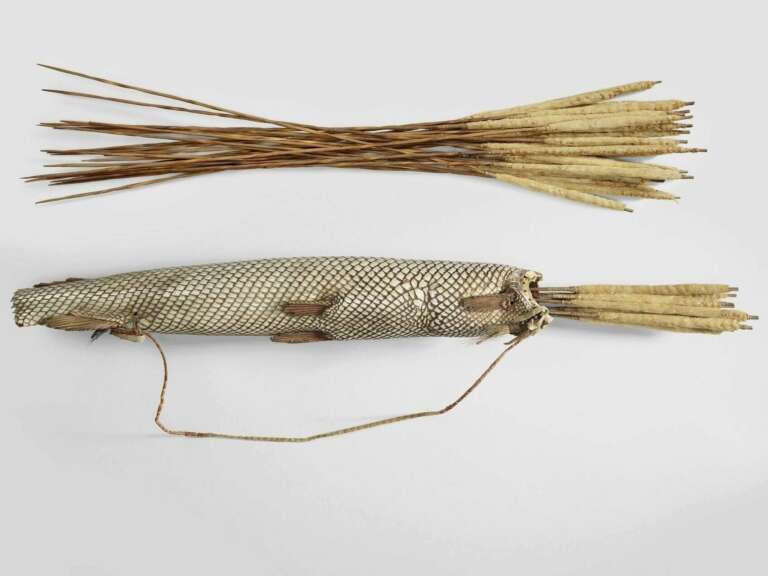 Fish skin quiver (garfish) and its blowpipe stings, Louisiana, 18th century
© musée du quai Branly - Jacques Chirac, photo Pauline Guyon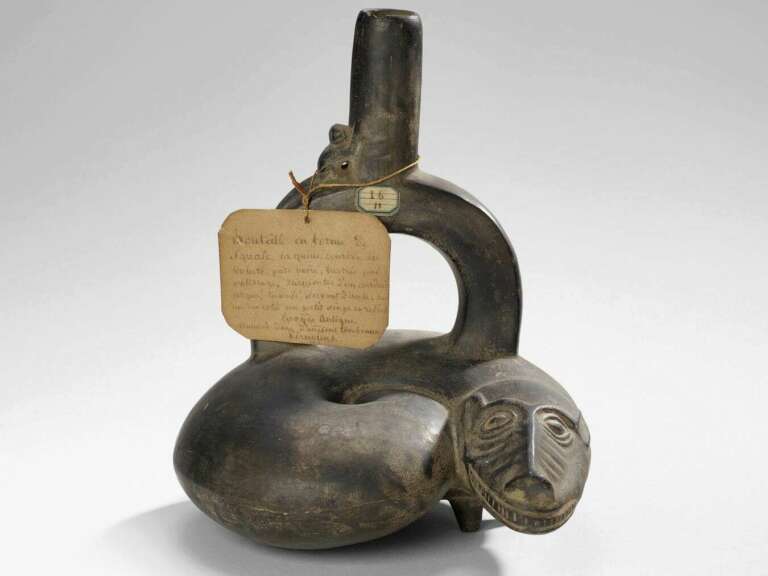 Stirrup spout bottle, Chimu culture, Northern coast of Peru, 1100-1470
© musée du quai Branly - Jacques Chirac, photo Pauline Guyon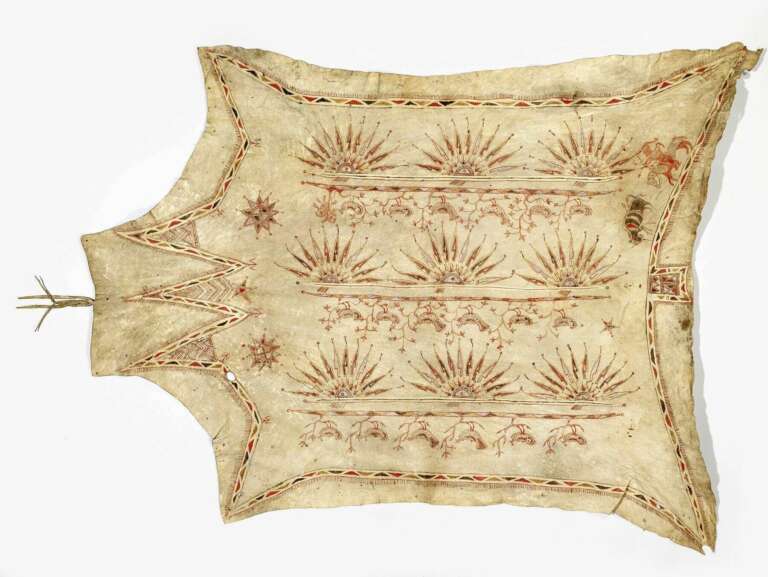 Painted hide, Southern Plains, North America, 18th century
© musée du quai Branly - Jacques Chirac, photo Claude Germain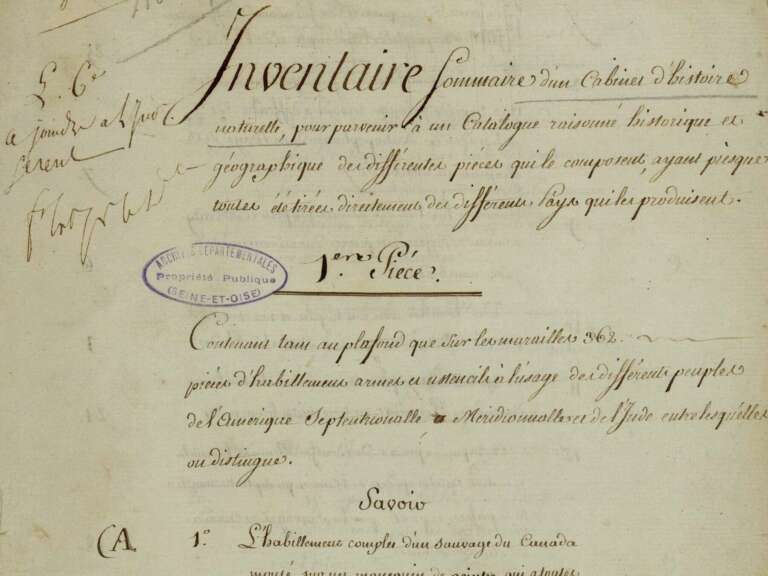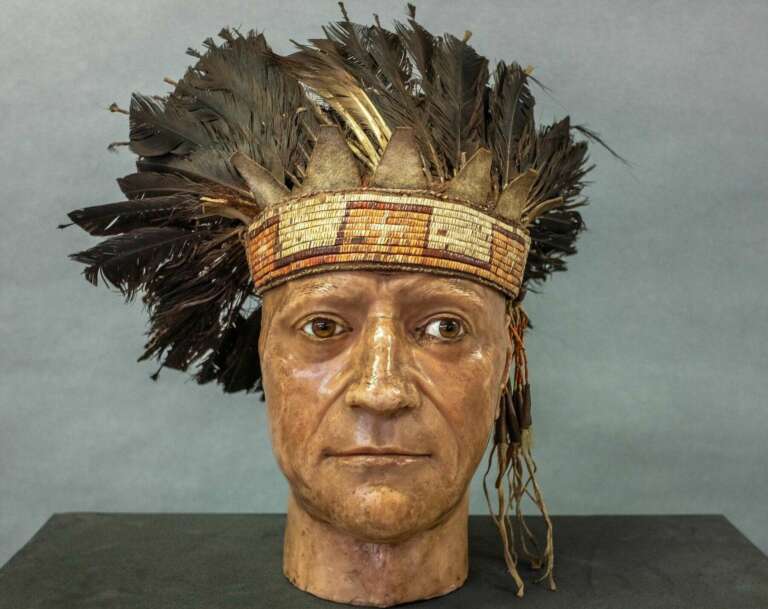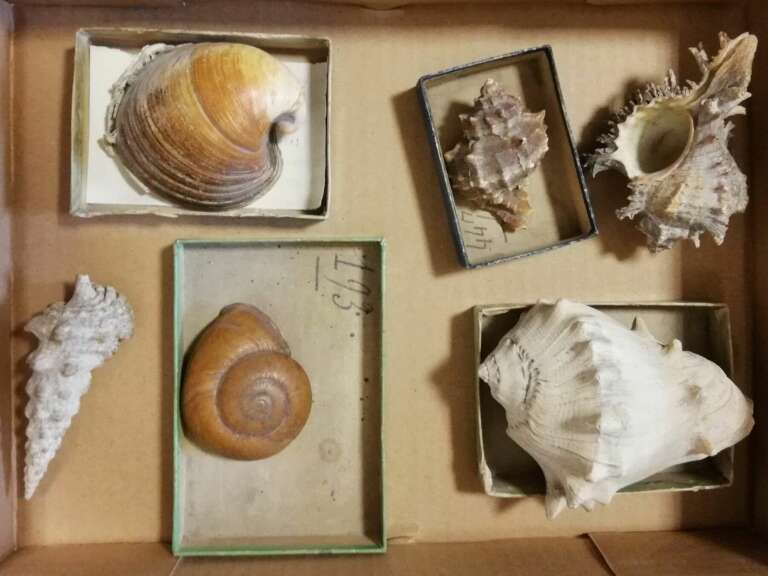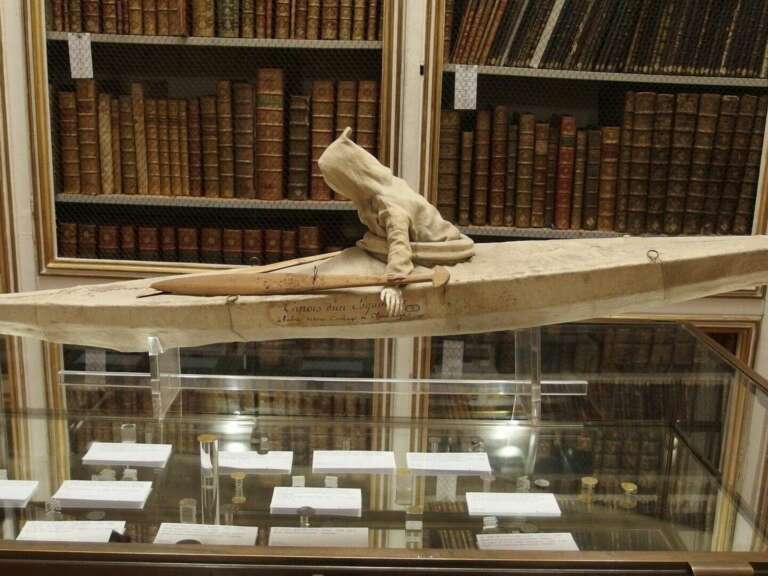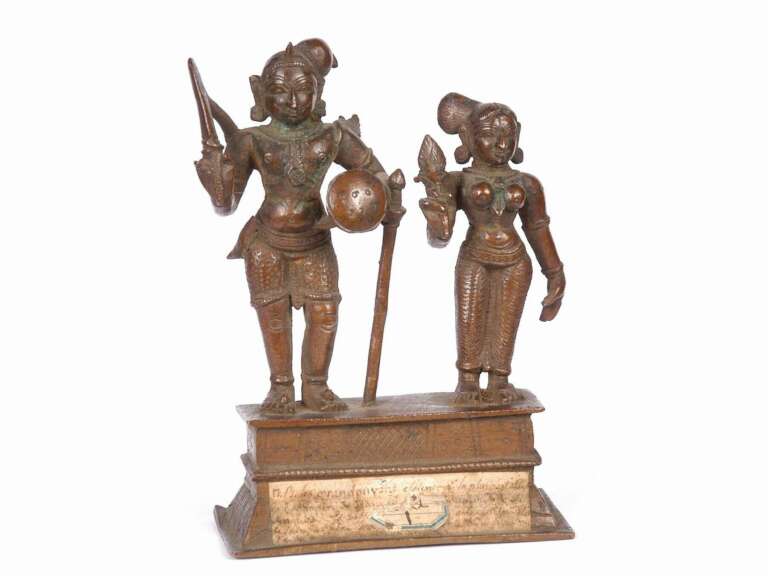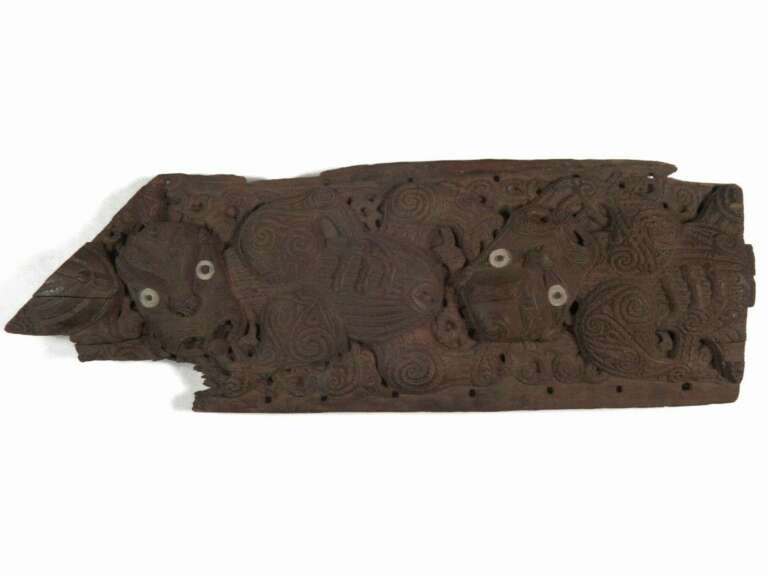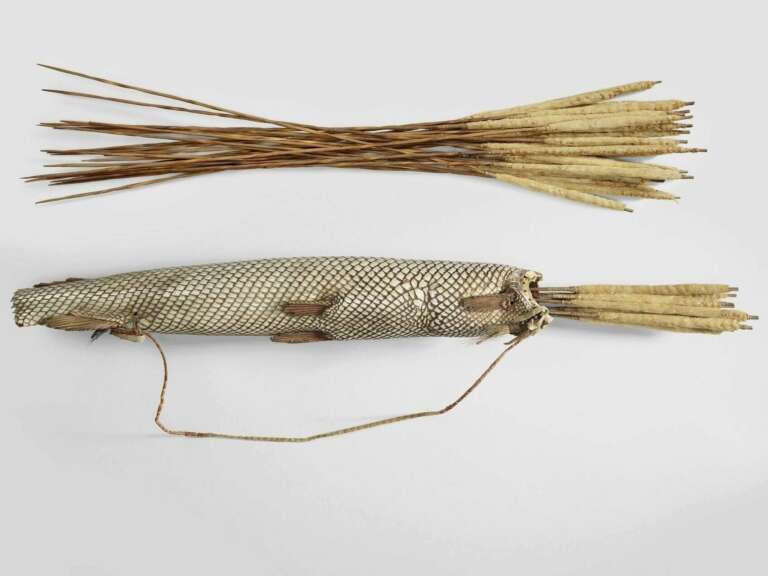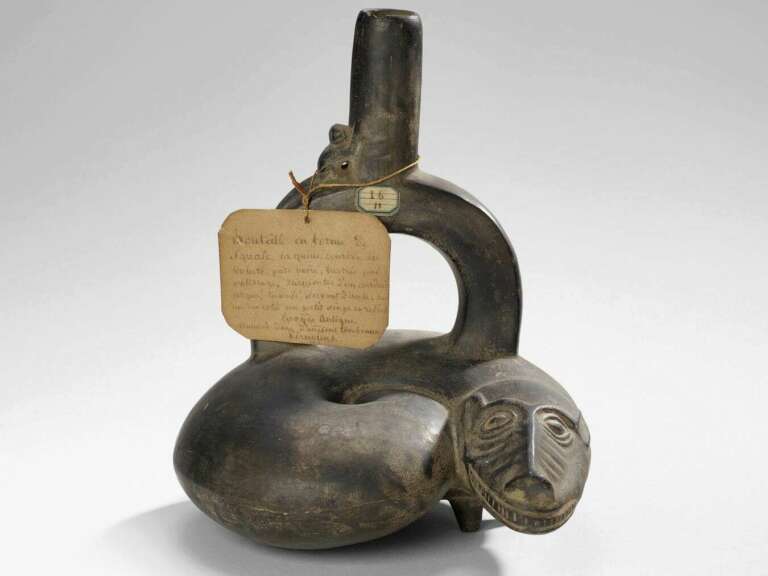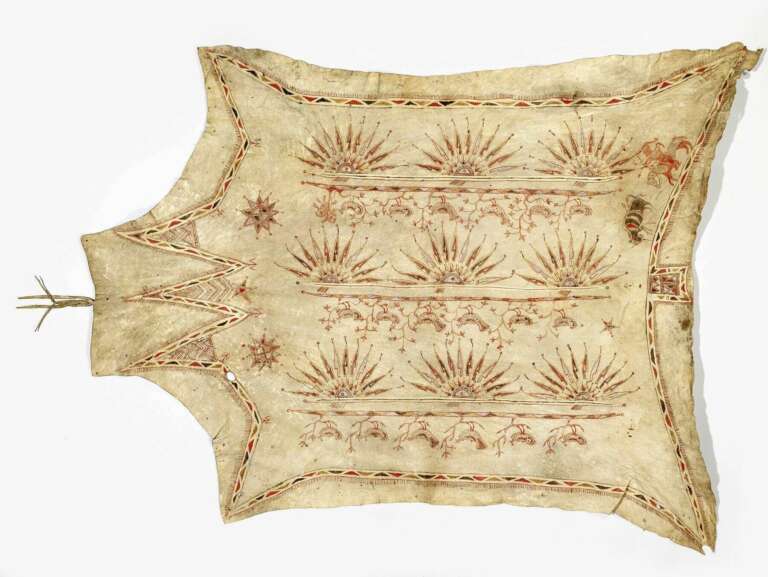 The inventory then mentions 'Eskimo costumes', a peace pipe, and weapons from the 'savages' of Canada, four clubs from the 'Indians of Cayenne' (today's French Guyana), various weapons from the 'Bay of Assassins' (Nez Zealand), bows, quivers and arrows from the peoples of America and India, 'a small Eskimo waterproof canoe', and more. The vast majority of the specimens were from the Americas, the most exceptional set of pieces being '18 hide carpets from Illinois oxen, deer and other quadrupeds from Northern America, all passed and painted by the Savages of Canada and Louisiana'.
Pierre-Yves Lacour, La République naturaliste : Collections d'histoire naturelle et Révolution française (1789-1804). Nouvelle édition [en ligne]. Paris : Publications scientifiques du Muséum, 2014.
Pascale Mormiche, « Versailles, lieu d'enseignement des sciences », in Catherine Arminjon et Beatrice Saule (éd.), Sciences et curiosités à la cour de Versailles, Versailles / Paris, Établissement public du musée et du domaine national de Versailles / RMN, 2010, p.173-187.
Paz Núñez-Regueiro et Nikolaus Stolle, « Les origines du "Cabinet de curiosités et d'objets d'art" de la bibliothèque municipale de Versailles : aléas d'une collection de l'Ancien Régime à l'Empire (1785-1805) », Revue des Musée de France, n°1, 2021, p.60-67.