Exhibition « Wampum / Otgoä »
The Wampum / Otgoä exhibit is the culmination of three hundred years of relationship building and the past four years of collaboration. This unique and unprecedented partnership between Ganondagan, the Musée du quai Branly – Jacques Chirac (Paris) and the McCord Museum (Montreal) will weave a friendship between peoples and across time. Perhaps more importantly, it will pave the way for future collaborations between European and Native American Indigenous museums that are mutually beneficial and have a great impact on the public.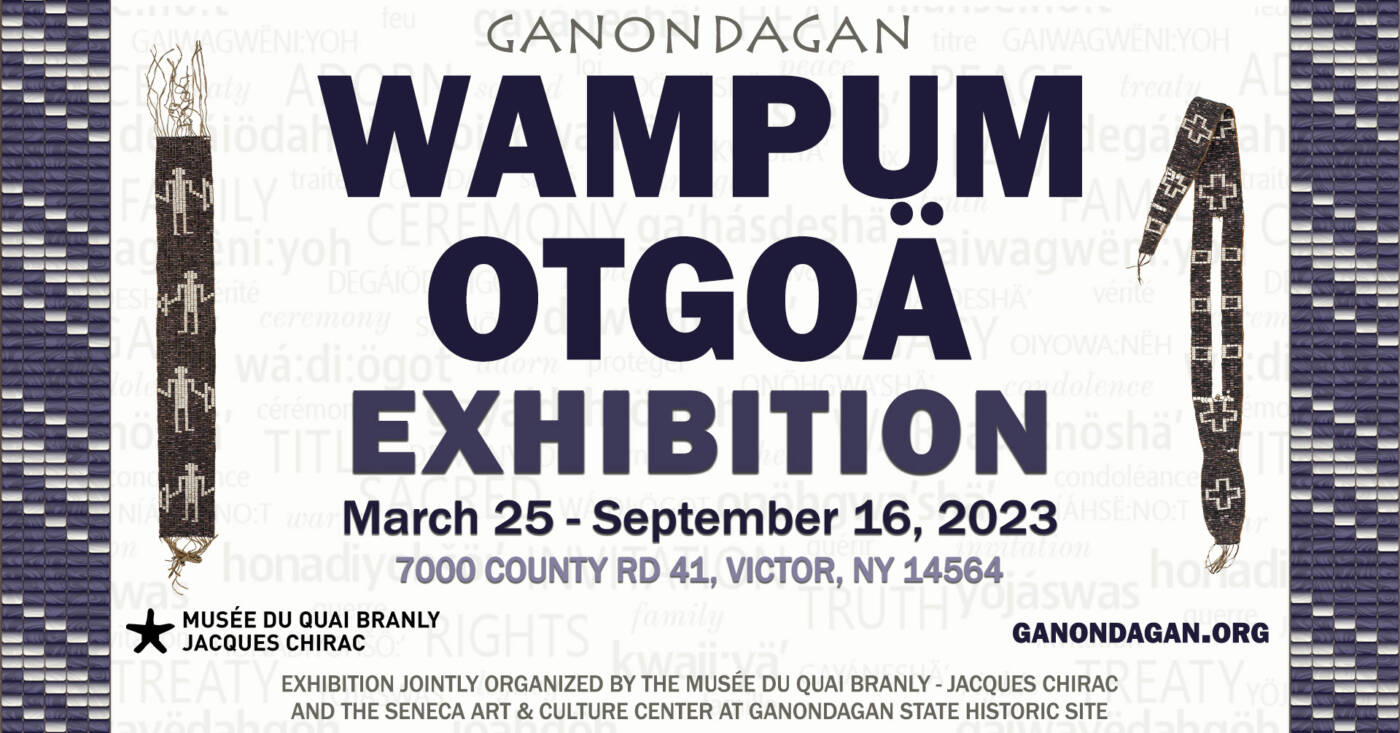 "Wampum has a lot to say, and at Ganondagan we'll do our best to share those words with the public"
Michael Galban, Historic Site Manager, Ganondagan 2023
Wampum Travels Across Time and Space
Wampum yearns to be understood, and also to deliver the meaningful messages it was assigned long ago. Here at Ganondagan, it will be given that opportunity once again. Wampum is enigmatic in its versatility: it heals, protects, beautifies and confirms relationships. There was a time when everyone east of the Mississippi River understood the use and importance of wampum. We invite all peoples to come to Ganondagan and learn from and about this ancient and yet very contemporary sacred semiotic.
It is ironic that Ganondagan, a site of historic violence at the hands of the French, is now also site of peace and reconciliation. The wampum we have invited here, in many ways, are functioning again as objects that have the ability to restore peace and understanding.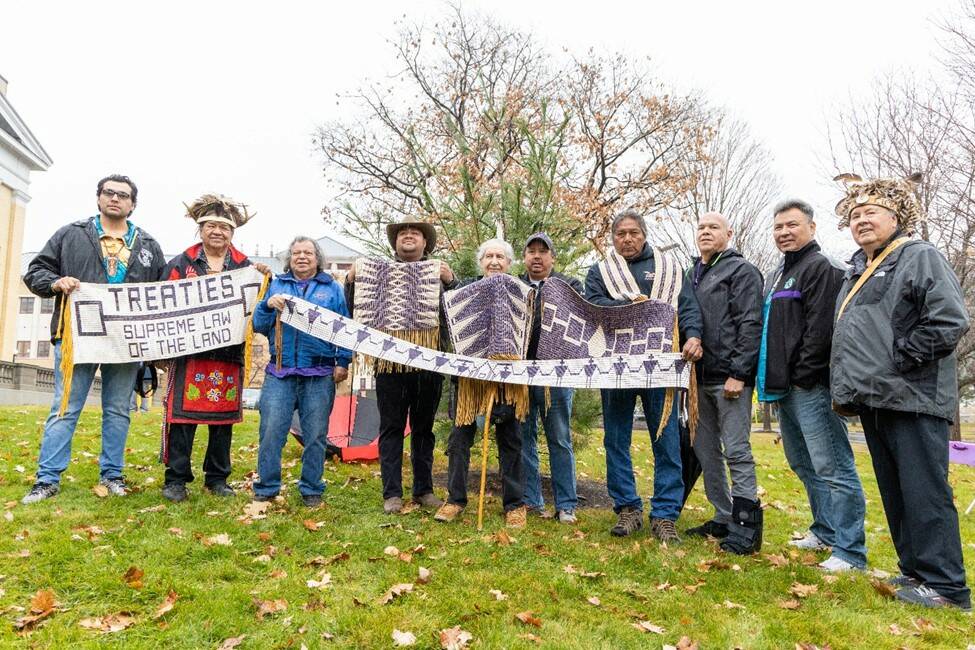 Commemoration of the 228th anniversary of the Treaty of Canandaigua of 1794 at the Ontario County, NY Courthouse, November 11, 2022.
The annual commemoration serves to "polish the chain of peace and friendship" between the sovereign Hodinöhsö:ni' (Haudenosaunee) Nations (Six Nations Confederacy) and the federal government of the United States.
Ganondagan will establish an Indigenous version of the "academic" knowledge. Using the ancient wampum objects and contemporary work inspired by wampum we will teach about the many areas of Hodinöhsö:ni' life both past and present which wampum informs. A "Wampum Lexicon" listing terms that help clarify the many ways wampum can be used, will be the structure for this curriculum. Instead of relying on the "written" sources, it will be supported by traditional Hodinöhsö:ni' orature, and on the way wampum can be "read" as a sacred document. This curriculum will be integrated into our pre-scheduled public tours which will be accessible by request and available in two versions, one for our indigenous audience, and another for our general public that will include basic foundational concepts about Hodinöhsö:ni' people.
Wampum beads and shell are versatile. They were and are incorporated into other objects to enhance, protect and beautify them. As such, wampum has three states:
Wampum confirms agreements between people as well as nations so, matters of diplomacy and law are "wampum matters".
Wampum continues to function within current Hodinöhsö:ni' culture, so wampum still matters to Hodinöhsö:ni' people.
Physical shell wampum "matter" can be seen and found in historic and contemporary objects.
Wampum Lexicon (English / Seneca)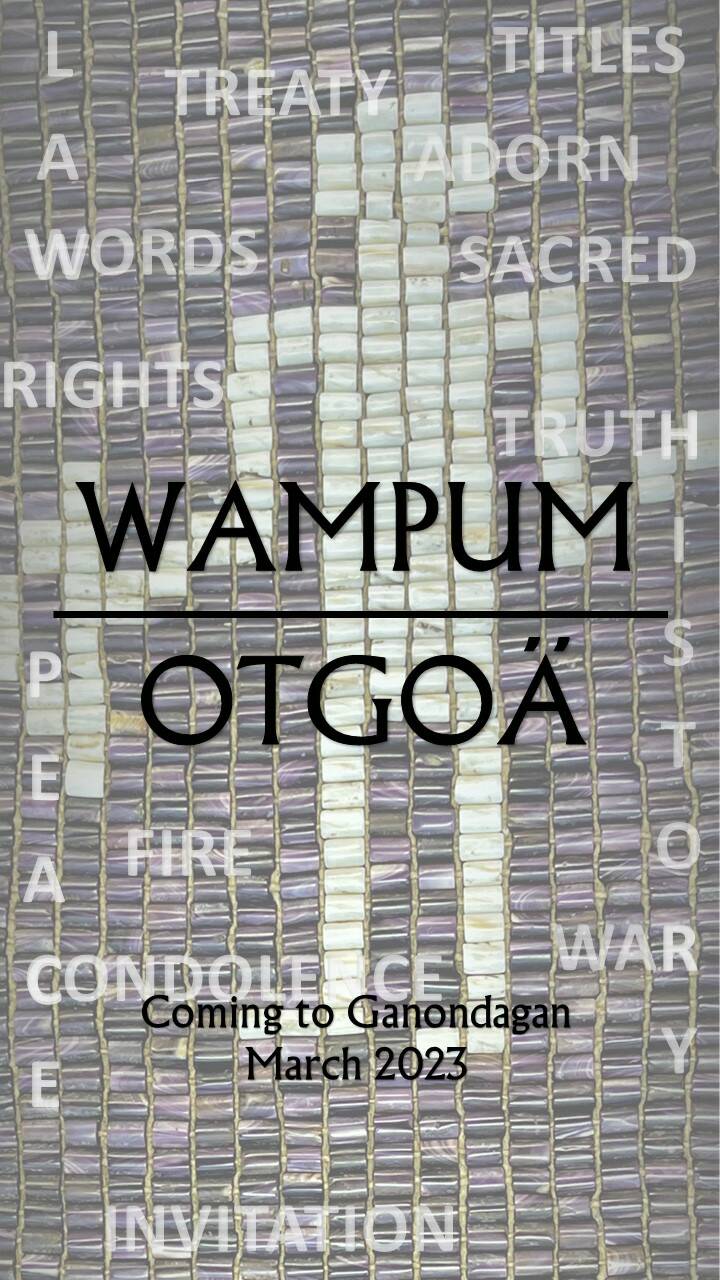 Law / Gayáneshä'

Treaty / Degáiödahgöh

Title / Níáhsë:no:t

Adorn / Gaya'dahšö:ni:h

Sacred / Oiyowa:nëh

Rights / Gáiwayëdahgöh

Truth / Gaiwagwëni:yoh

Peace / Skënö'

Strength / Ga'hásdeshä'

Fire / Oji:sda'

Condolence / Adö:nöshä'

War / Honadiyohšö:'

Invitation / Yöjáswas (she made an invitation)

Ceremony / Wá:di:ögot (they performed a ceremony)

Protect / Dewë'nyadö' (it's protected)

Heal / Onöhgwa'shä' (medicine)

Family / Kwaji:yä'

Legacy / Jóähdöh (in the past)
The Wampum exhibition will also be presented at the McCord Museum in Montreal from October 20, 2023 until March 3, 2024.
Date
Saturday March 25 till September 17, 2023
Place
The Seneca Art & Culture Center at Ganondagan
7000 Co Rd 41, Victor
New York State 14564
Opening Hours
Wednesday - Saturday, 9am - 4pm
Closed Sunday - Tuesday and on Independence Day (July 4)
Group Visits
Please contact Kristin Asche
(585) 924-5848
kristin.asche[at]parks.ny.gov
EXHIBITION TEAM
Head Curator
Michael Galban
Curatorial Assistant
Kristin Asche (Seneca)
Scientific Team
Alexandria Hargrave (Oneida)
Evon Cesar (Mohawk)
Haudenosaunee Cultural
Consultants
Kalen Fontenelle (Seneca)
Tonia Galban (Mohawk)
Jamie Jacobs (Seneca)
Ansley Jemison (Seneca)
Grandell Logan (Seneca)
Cole Reuben (Seneca)