Behind the Scenes of the Choctaw Video for the Exhibit "An Inquisitive Prince"
Although the "An Inquisitive Prince" exhibit at Versailles closed in December 2021, our teams are still working together to further understand the items in the collection. Currently, we are working on a plan to bring items from the royal collection to the Choctaw Nation for a temporary exhibit at the Choctaw Cultural Center in Durant, Oklahoma. But before these items arrive stateside, we want to reflect on our collaboration with the musée du quai Branly-Jacques Chirac thus far and share how we partnered to organize the exhibit. Further, we want to speak to the significance of the items displayed in the exhibit as they relate to Choctaw people. Today, we are sharing the behind-the-scenes process for the exhibit video produced by Choctaw Nation staff.
Choctaw Perspectives: An Inquisitive Prince Exhibit (2021)
A film made by Mark Williams and the Historic Preservation department for the French exhibit An Inquisitive Prince, sharing the Choctaw perspective on Choctaw-French history and museum collections.
Providing a Choctaw Presence at Versailles
In the culminating room to the exhibit, we showed the French audience what these Southeastern Indigenous items mean to the people of a contemporary Indigenous nation revitalizing its culture. Given this intention, we thought there should be contemporary Choctaw people within the space of the exhibit. Since the exhibit was shown in Versailles during a worldwide pandemic, we knew that not many Choctaw people would be able to physically visit the exhibit. We were even unsure if members of our exhibit team would be able to see it in person given travel restrictions in both countries. That is, in part, why we developed a video for the exhibit. In the exhibit cases with the items, we provided photographs of modern Choctaw artists working on pieces similar to the ones shown to help a French audience understand our connections to the arts of our ancestors. The video also allowed us to narrate this history and our understanding of these items in our own Choctaw voices.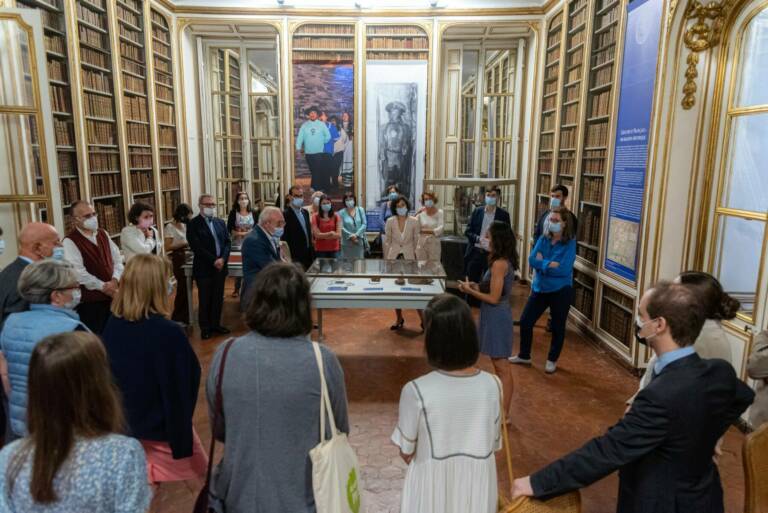 © Ville de Versailles / Marc O CARION
Choctaw Video © Ville de Versailles / Marc O CARION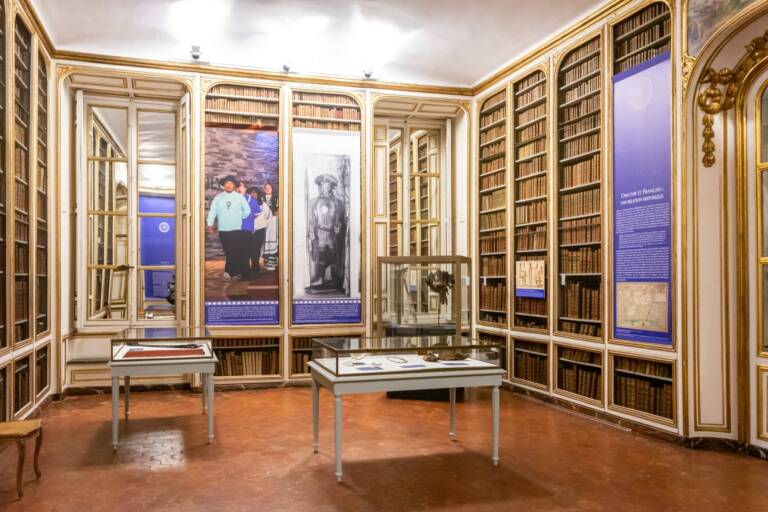 Choctaw Section © Ville de Versailles / Marc O CARION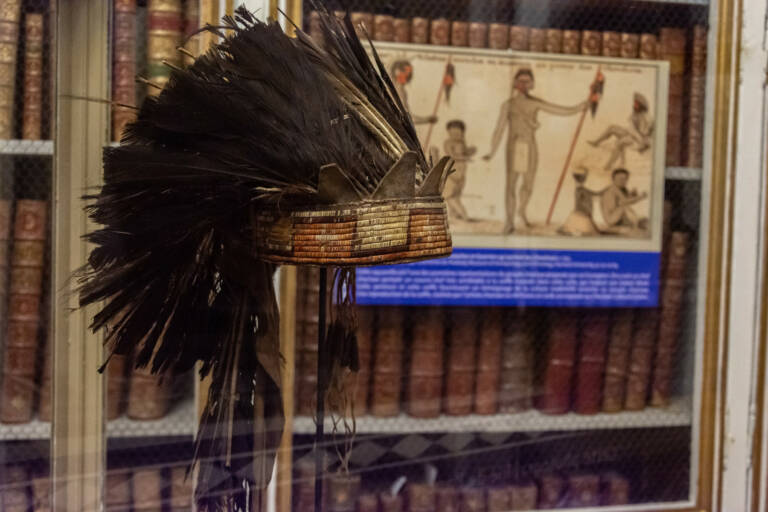 Headdress 71.1934.33.31 D © Ville de Versailles / Marc O CARION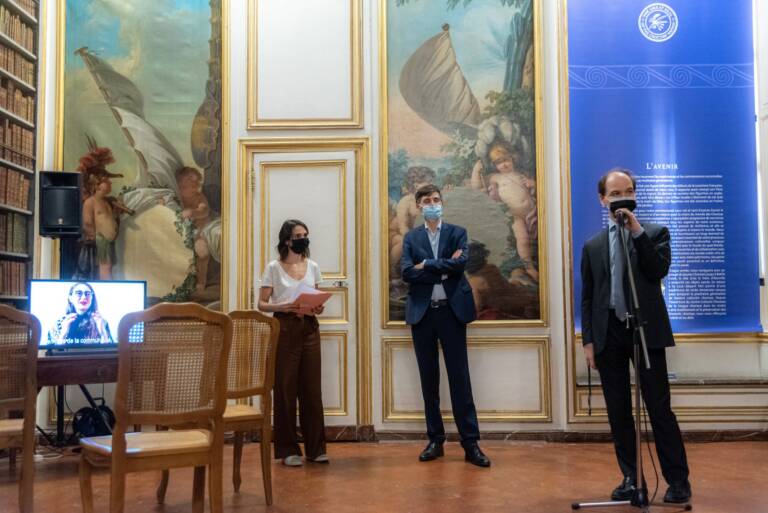 Inaugural Speech © Ville de Versailles / Marc O CARION
Organizing the Collaboration and Filming from Oklahoma
Beginning in January 2021, Historic Preservation Research Associates Megan Baker and Jennifer Byram worked with Choctaw filmmaker Mark Williams to shoot footage and cut together the video. This proved to be more difficult than expected given the conditions created by the pandemic and making sure to keep everyone safe. Furthermore, since Jennifer was working from Arizona while taking coursework during the first year of her doctorate program, she joined us for on-camera interviews via video-conference. She filmed her own video with Megan who asked questions over the computer on a separate day.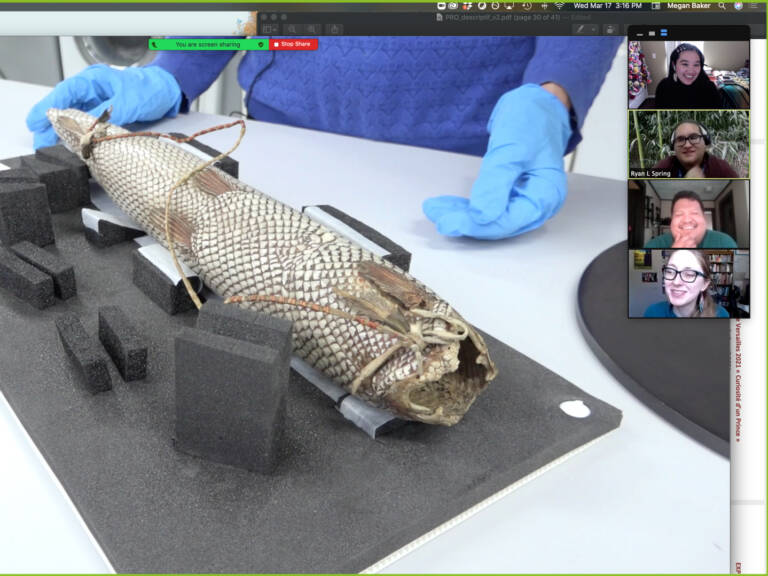 Choctaw team working with Choctaw filmmaker Mark Williams on the exhibit video.
Displayed here is a quiver made from a Gar fish. Photo courtesy of Megan Baker
After two days of filming, Mark ended up with over 12 hours of interview footage with members of the curatorial team, Choctaw knowledge holders, and Choctaw artists. These individuals included: Megan Baker (Historic Preservation), Curtis Billy (Chahta Anumpa Aiikhvna, School of Choctaw Language), Jennifer Byram (Historic Preservation), Sue Folsom (Cultural Services), Cady Shaw (Cultural Center), Ryan Spring (Historic Preservation), Eveline Steele (Choctaw artist), Dr. Ian Thompson (Historic Preservation), and Les Williston (Choctaw artist). Each of these individuals answered questions that Jennifer and Megan had prepared prior to the on-camera interviews. These questions were tailored to each individual's expertise whether it be on Choctaw-French history, language, historical methods, artistic methods and techniques, or artistic practice.
A Virtual Encounter between Artworks and Artists
One of our favorite parts of the filming was when our Choctaw artists Sue Folsom, Les Williston and Eveline Steele came in to look at pictures of the Royal Collection items for the first time. Before our eyes, we could see their discerning gaze reading the techniques and materials from a computer screen and translating them with their years of material skill and knowledge. They offered insights into possible methods for production, explanations of select items' possible symbolism according to Choctaw philosophy, and how items like the ones in the royal collection might have been used by members of Choctaw society. Although we wanted to include more of this footage, we selected Les Williston's explanation of how Choctaw warriors might have used the bearpaw moccasins in the final exhibit video.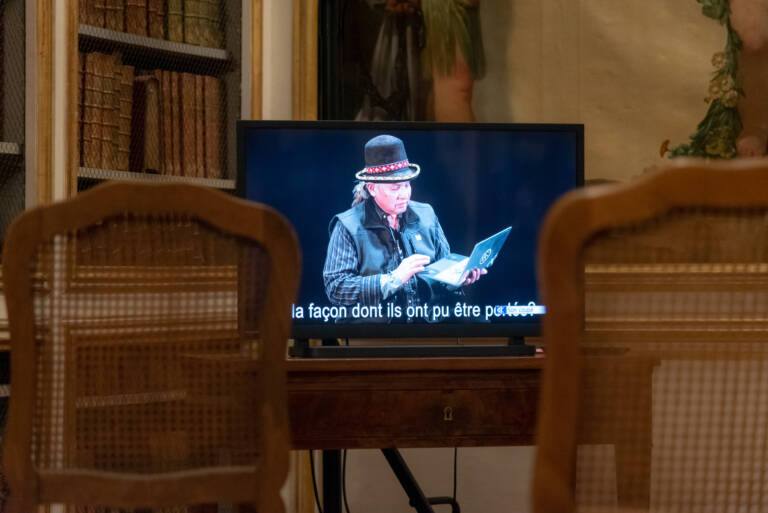 Les Williston presenting the bearpaw moccasins on the Choctaw Video displayed in the Exhibit
© Ville de Versailles / Marc O CARION
Mounting a Video for the French Audience
Since we ended up getting so much footage about all the different aspects of Choctaw-French history, our team had the daunting task of cutting all of it down to six minutes for the exhibit video. After the interviews were shot, Mark uploaded all the footage online and Megan used that to create an outline based upon all the topics discussed and developed a first rough outline of the exhibit video with all the time stamps. Mark then turned that word document into a rough cut that was then sent back to Megan. The Choctaw team met to discuss and offer feedback on the first cut. Then Megan, Mark and Jennifer went back to working on the video. Once they got a final cut that was approved by the rest of the exhibit committee, Mark added French subtitles. The video was completed in July 2021.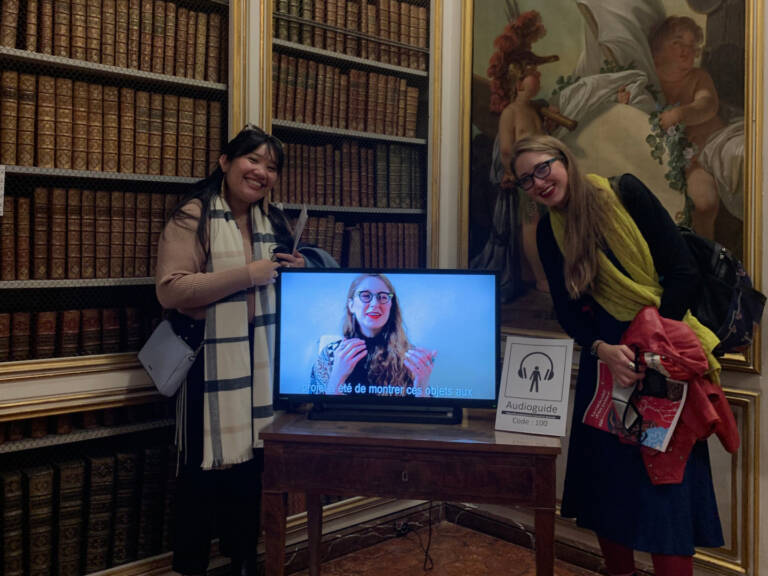 Megan Baker and Jennifer Byram with the exhibit video during their visit in November 2021. Photo courtesy of Megan Baker.